Using an online photo sharing service to collect digital photos from your wedding? Let your guests know with reminder cards and use our cute camera-shaped PicShare Boxes to display the reminder cards on every table at the reception.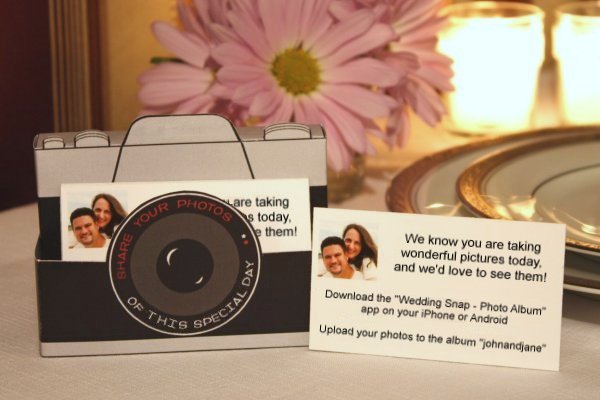 Collect hundreds more event photos in 3 easy steps:
Sign up for an online photo sharing service like Wedding Snap.
Use your computer or a printing service to create reminder cards for your guests, letting them know how to share their photos of the event.
Display the cards on every table at the reception in our camera-shaped PicShare Boxes.
With these reminder cards, your guests will be sure to have all the info they need to share their photos with you. Our PicShare Boxes make it fun and easy to display them on the tables!
Our PicShare Box kits include 10 pre-printed cardstock templates that you cut out and fold to form the boxes. The kits also come with a CD containing a video showing assembly and a PDF with full written assembly instructions. The CD also contains an editable Word template to help you create your reminder cards, which you can print yourself on business cards.
We even provide you with an extra "practice" paper template so you can get comfortable with the assembly process before moving on to the "real" PicShare Boxes.